NEWS

I'm honored to share that I have won my first Industry choice
Dolls Award of Excellence. see below!
I would appreciate your Vote for my Santa "Cinee Claus" entered in the upcoming
2016 Dolls Awards of Excellence Public Choice competition. Please go to Dolls magazine to vote!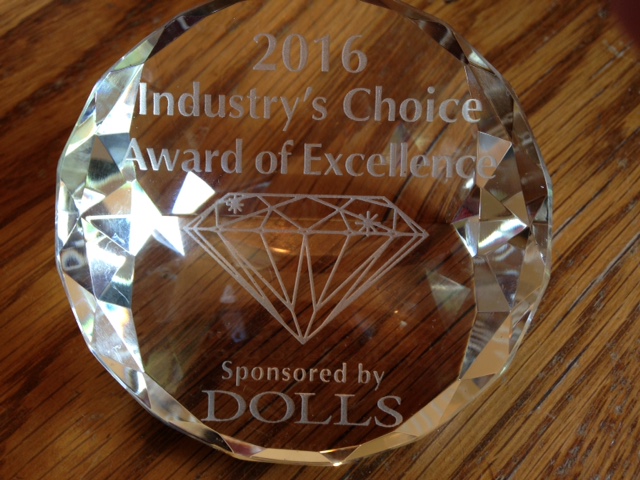 Site Updated 6/21/2016
Welcome . . .
Karen Vander Logt started sculpting Santa's and Art dolls in 1999. She is a self taught artist and lives in Wisconsin with her husband and their three sons. She hand-sculpts each of her "One-of-a-kind" dolls using polymer clay, glass eyes, angora mohair for her Santa's and high quality wigs for her dolls.
Karen designs and sews all their clothing herself using new or vintage fabrics.
Karen's dolls, along with her sister Mary Bauman, have been featured in the 2004 Better Homes and Gardens Santa Collection book vol. 6. Karen's doll photos have also been in Doll Reader, Dolls magazine and Contemporary Doll Collector, and she has also been listed in Early American Life Magazine as one of this Country's top Artisans, listed in the 2009, 2010 and 2011 Directory of Traditional American Crafts Holiday issue. Being listed in the Directory is an honor given only to a handful of artisans. This award singles out their work as the best now produced in America today. Karen has exhibited her dolls at the Hellman Gallery for the International Doll Art show- Chicago Illinois, IDEX Las Vegas. She has shipped dolls all over the United States and Internationally, including Canada, Ireland, Switzerland, Australia, United Kingdom and Greece. Dolls sell primarily from her website, shows and e-bay; she is gaining a long list of collectors.
Karen's goal in creating Art dolls is that they not only be seen with the
eye of the viewer, but also "Seen with the heart".
My passion for Art . . . has always been with me as long as I can remember, and now I have found the
perfect medium. . . polymer clay, which satisfies me completely. I love to sculpt and sew, so this combines two of the things I really love to do. I am influenced by moments in life; the warm memories I have of Santa and the holidays. I try to capture the
warmth and kindness of Santa along with the sweetness and wide-eyed innocence of children. I hope it reflects in the faces of my Dolls. I hope to reach people in different ways and try to
help recreate memories of their own childhood. I'm so grateful for all of my family and being able to do what I love.

~Karen Vander Logt